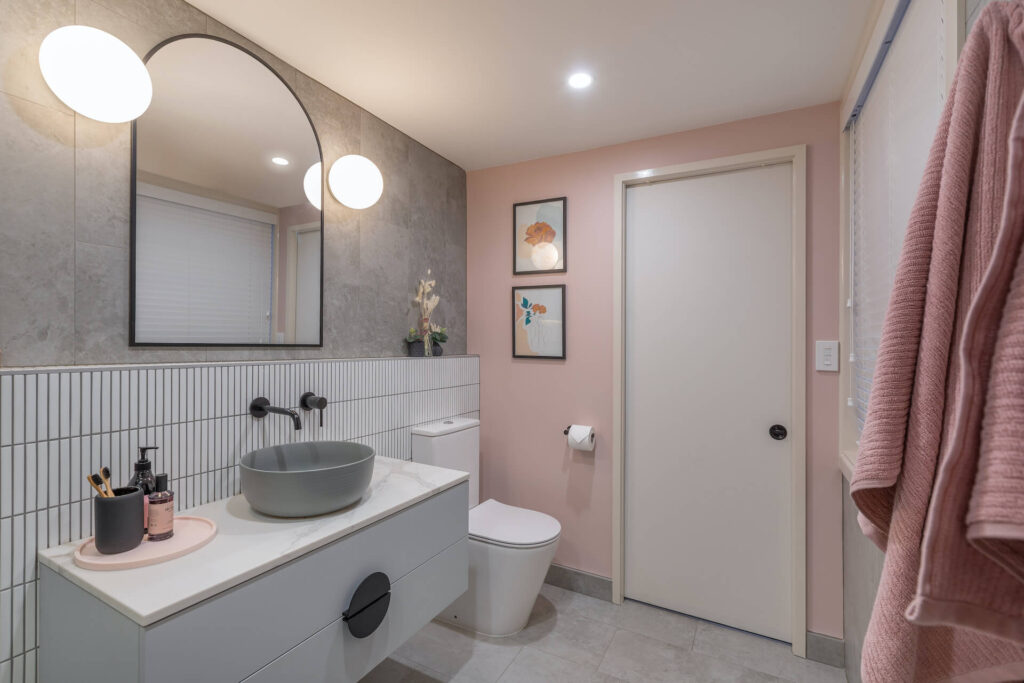 Harry Potter's bedroom isn't the only quirky reimagining of an underutilised hall cupboard. Though it may be hard to believe, that's exactly what this trendy ensuite used to be!
Prior to Melanie John's stunning redesign, this space was part of a sunroom and hall cupboard the homeowners barely used — while the home's existing bathroom was small and dysfunctional.
Working closely with the plumber and architect for council consent, the designer cleverly housed the added plumbing in the stylish nib wall behind the vanity and toilet. A window was also removed to maximise privacy and allow more wall space.
After this careful layout planning came the consideration of palette and fi nishes, which were chosen to add a splash of colour and complement the grey and blue tones of the 1960s home. Dolomite Dark Grey porcelain tiles on the floor and walls alongside mosaic key white fi nger tiles create a timeless base to the scheme, a colour pairing that continues through to the vanity, benchtop and soft-grey basin.
The feature wall painted Resene Wafer adds a vivacity and a playfulness that's echoed in the rounded mirror and Luna drawer handles from Lo & Co Interiors.
The lighting was also not to be overlooked. The Mapa Bianca wall lights work on a separate switch to those overhead, allowing diff erent settings to suit the mood. Alone they emit a warm, soft glow ideal for winding down before bed, while the overheads provide functional general lighting perfect for getting ready.
The end result is a fresh and trendy ensuite that not only looks lovely, but is built with an extraordinary mindfulness of function. Designer Melanie John for Cube Dentro Photographer Kallan MacLeod
CDS Bathroom Design Award